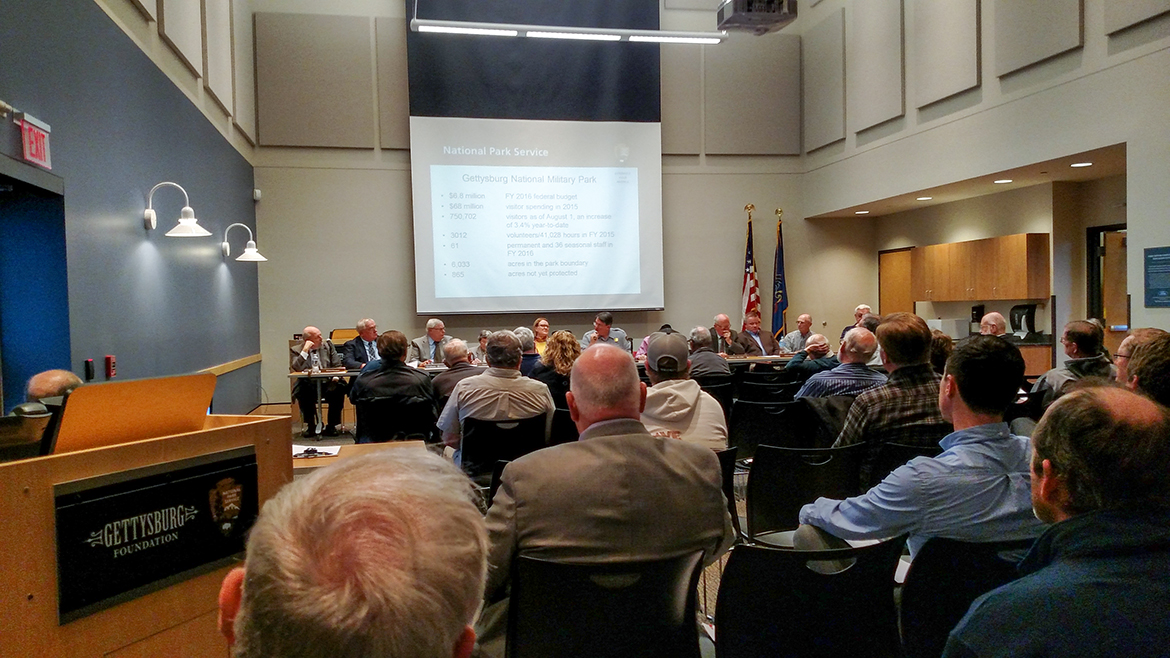 On April 13, 2017 at 7 PM
the Gettysburg National Military Park Advisory Commission met
in the Ford Education Center at the Visitors Center. This public meeting of the advisory commission is held twice annually. The next meeting will be September 14, 2017.
This image was taken at approximately 7:00 PM on Thursday, April 13, 2017.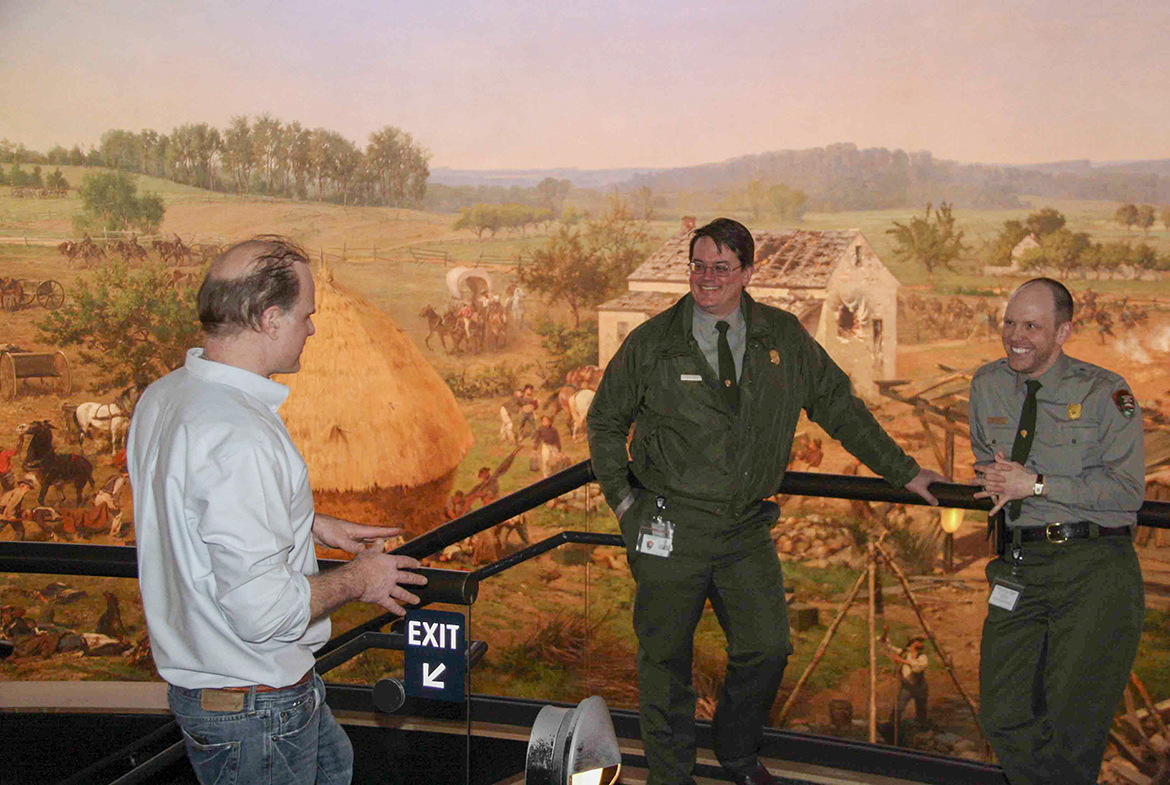 Barbara Finfrock and seven others went with Superintendent Ed W. Clark (center) on a tour of field and "heard a number of his concerns" about the park. These specific concerns were not elaborated upon.
Superintendent Ed Clark (center) and the Greg Goodell [GNMP Museum Services Supervisor]. This image was taken circa 2015 [NPS].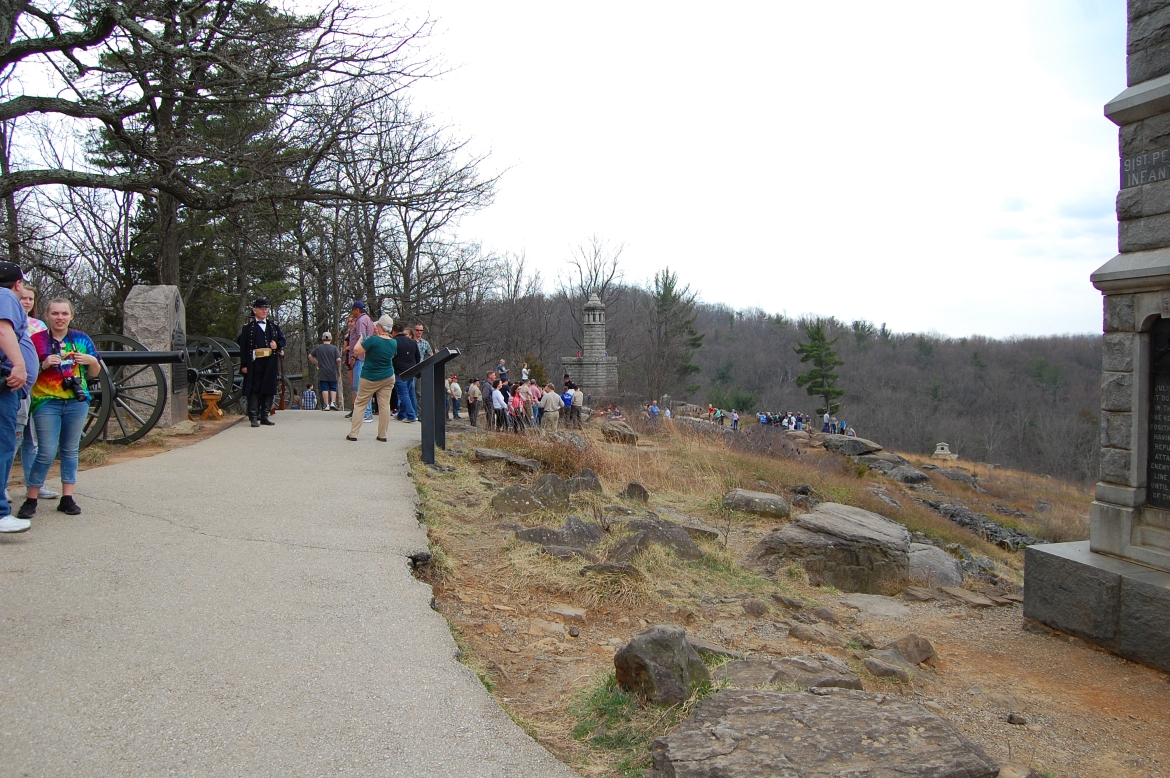 Mr. Clark took the mic and began a powerpoint presentation entitled "Little Round Top Rehabilitation." The effort to rehabilitate or in some way address "overuse" of Little Round Top preceded Mr. Clark's arrival in Gettysburg. In 2012 a Cultural Landscape Report on Little Round Top was conducted as the first major step in the rehab process.
This view was taken facing south at approximately 2:00 PM on Saturday, March 25, 2017.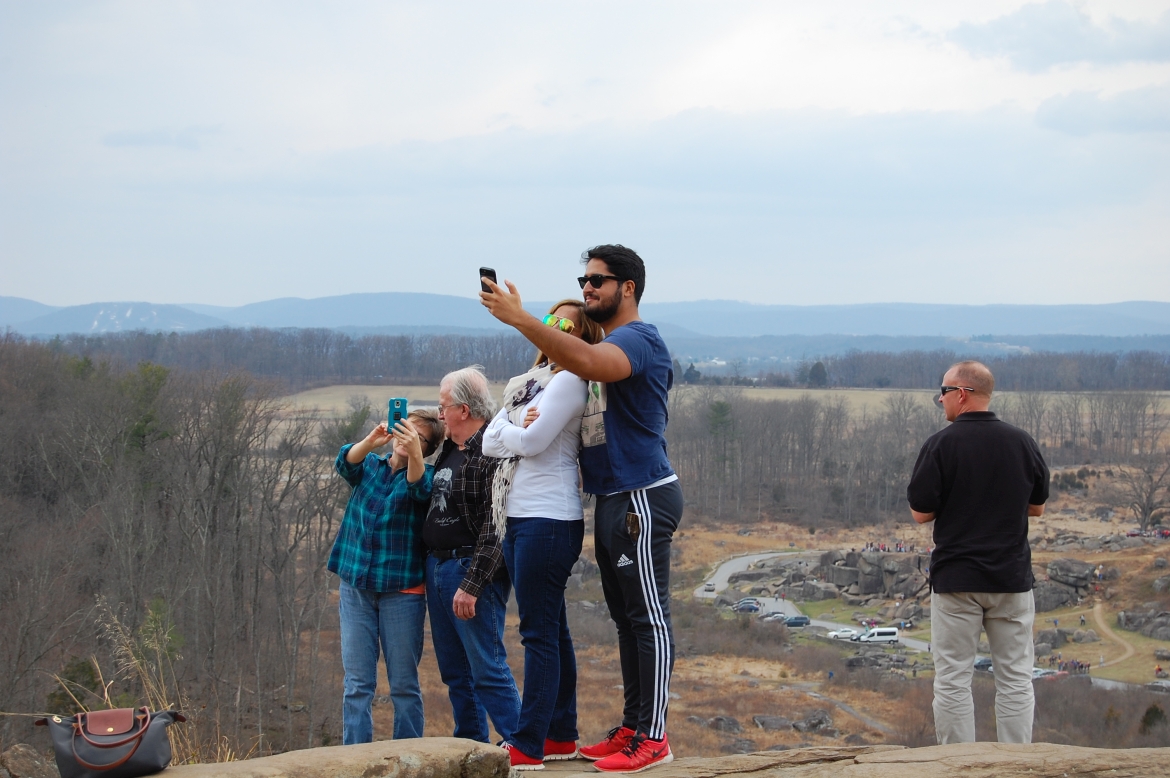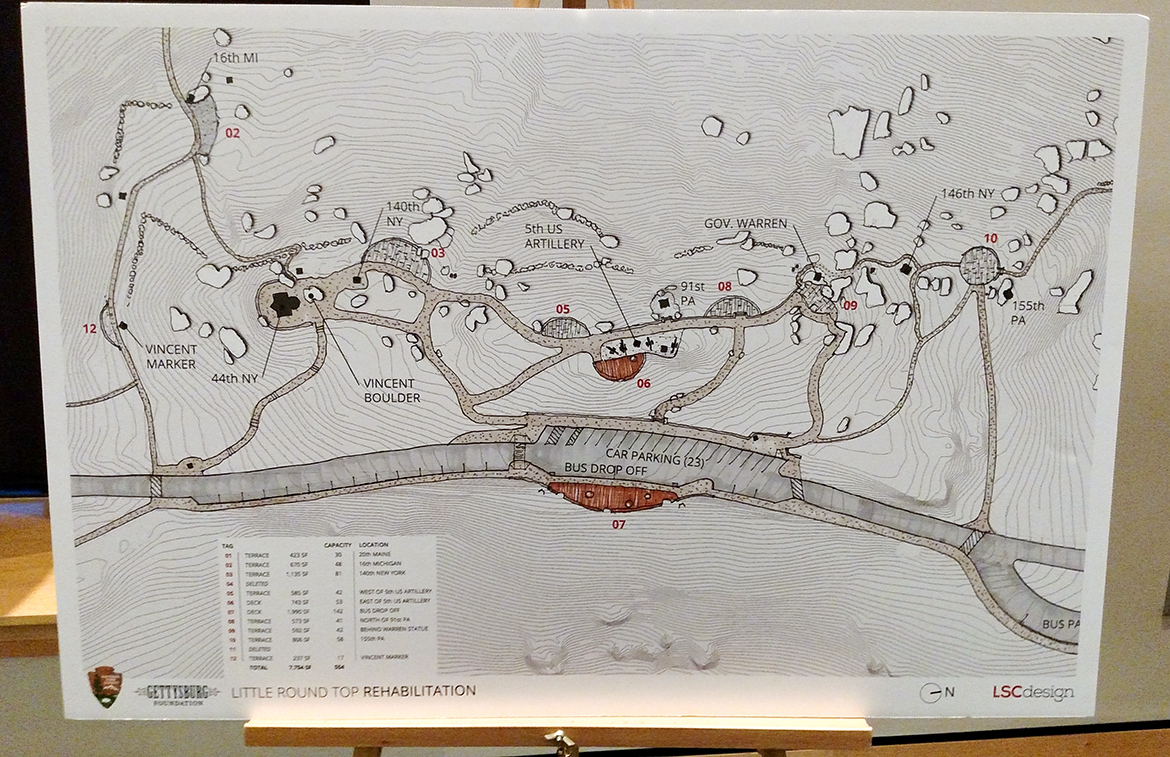 Clark acknowledged that the planning and restoration of LRT preceded his arrival in Gettysburg. Though there was a public comment period for 30 days on the plan, it was released the day of the Advisory Commission meeting, preventing public comment at April's meeting. Clark mentioned that the estimated cost would be 12 million.
This image was taken at approximately 7:45 PM on Thursday, April 13, 2017.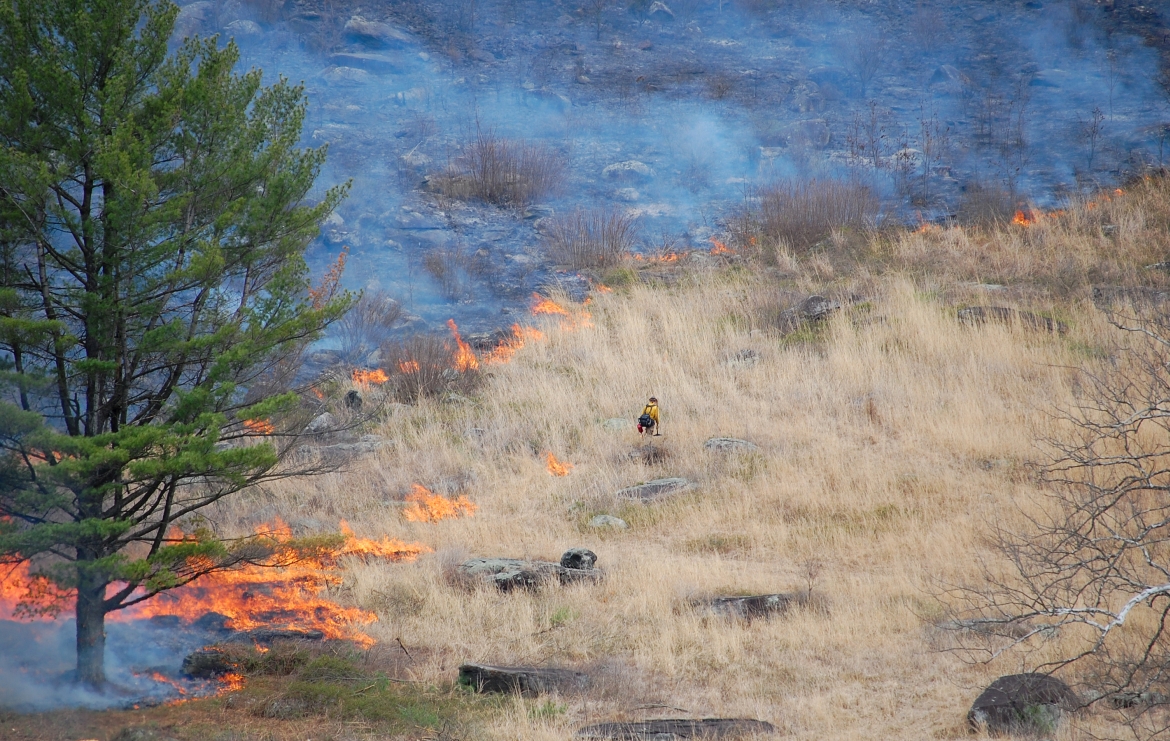 Mr. Clark then summarized the prescribed fires that the Park performed at
Little Round Top
and Pardee Field. Clark said that it costs 10,000 per acre to remove vegetation by hand and 100 dollars per acre to remove it with a fire crew.
This view was taken facing east between 11:30 AM and 4:00 PM on Monday, April 10, 2017.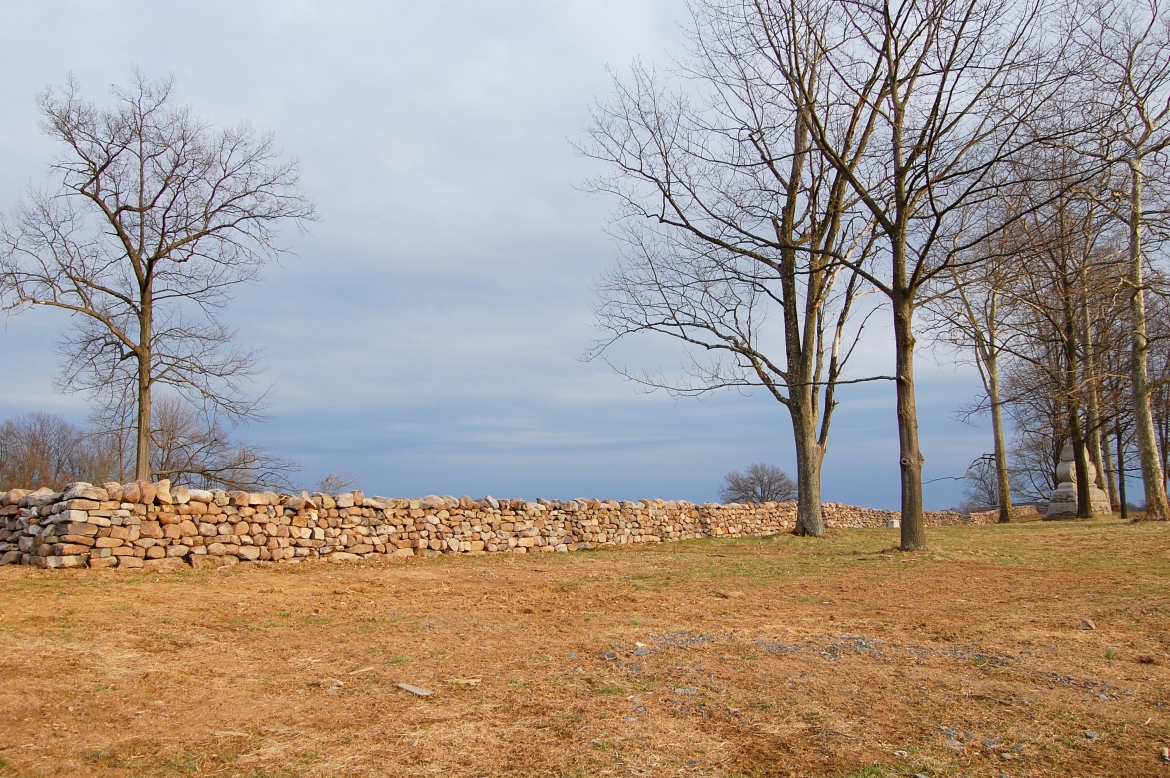 The Rehabilitation of Cemetery Ridge
was the next topic in Clark's notes. He began by mentioning that it was almost complete but there were still a few finishing touches. While reading from notes, Mr. Clark referred to the stone walls as "not a perfect recreation, but a representation." An administrative official within the Park told us that they are "in the early stages" of writing a Commemorative Era Plan and right now it's "very internal."
The 108th NY is on the right. This view was taken facing southeast at approximately 5:00 PM on Sunday, March 12, 2017.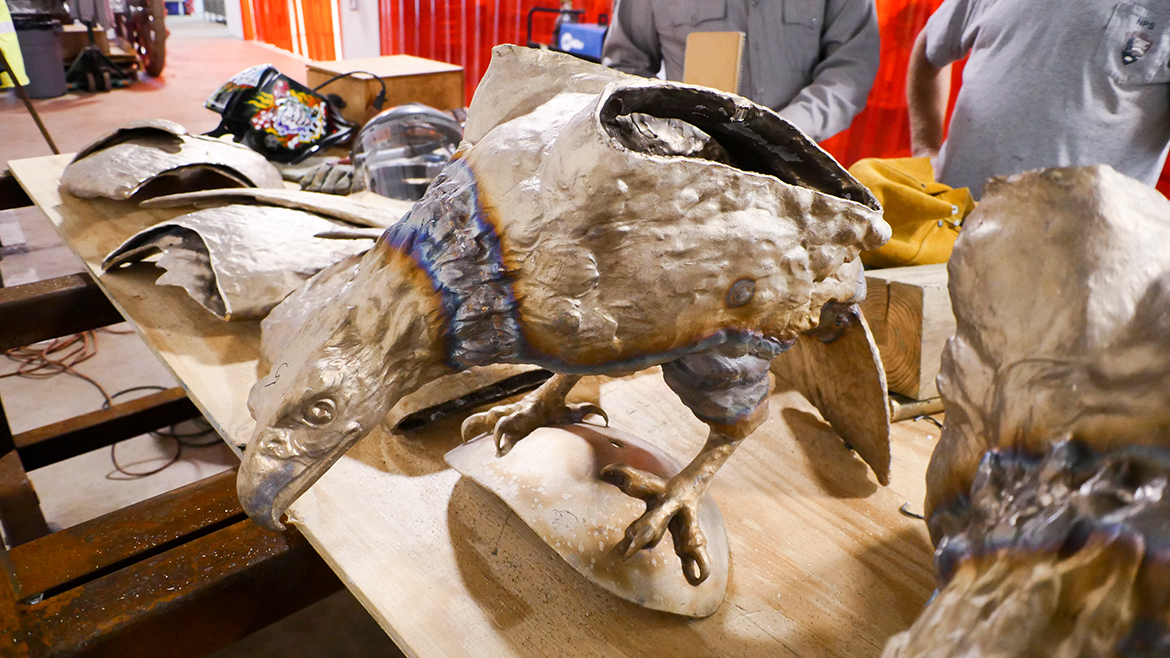 Mr. Clark went on to mention the progress on
the Hancock Avenue Gate
and said that a number of monuments still need returned to their earlier positions in Ziegler's Grove.
This image was taken in April of 2017 at the GNMP Cannon Shop.
After discussing the "Gate to Nowhere," Mr. Clark looked up from his notes and was finally able to discuss a project that he started during his tenure: Historic Leases. The Park recently announced they would lease historic structures on the battlefield to citizens during the summer season. There are about six or seven empty houses right now, according to Clark. Park seasonals and employees, who are offered housing by the Park, have not been renting the structures like they did in the past. Instead, this would give visitors the opportunity to rent houses in the summer. "Basically vacation rentals," Clark said. "We're exploring a variety of leasing strategies."
The Bushman Farm. This view was taken from the west facing east at approximately 2:15 PM on Friday, April 18, 2008.
"Leasing historic structures is something I've had my eye on just about the entire time I've been here," Clark said. "I have a personal thought that it probably will be [economically viable]. It's a better source of revenue than employee housing." The Bushman Farm will be the first farmhouse leased as a test for the project.
View is from the southeast facing northwest at approximately 2:15 PM on Friday, April 18, 2008.