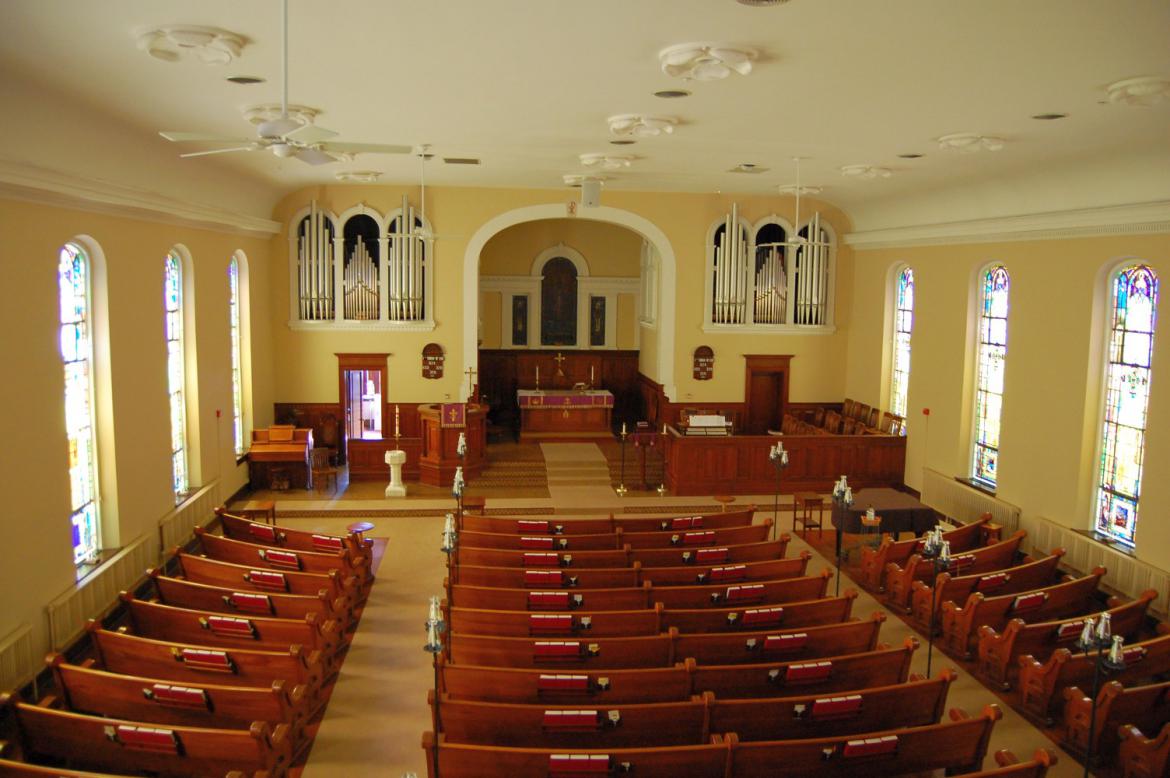 The nave of the Christ Evangelical Lutheran Church in Gettysburg.
This view was taken facing south at approximately 3:30 PM on Friday, March 11, 2011.
Christ Evangelical Lutheran Church is the oldest structure in Gettysburg continuously used as a Church. It was founded in 1835 to be the English speaking Lutheran Church in Gettysburg (St. James Lutheran Church, in existence since 1789, conducted its services in German), and to be the primary assembly hall for the Lutheran Theological Seminary and for Pennsylvania (Gettysburg) College.
"Candlelight at Christ Church," one of Gettysburg's best kept secrets, is a very informative and entertaining contribution to our community. This free, historical (not religious) program is offered on Saturday evenings. Visitors can sit in the building that was a Civil War hospital during the battle. They hear stories about what the soldiers and citizens experienced, and also songs from the period. The first Candlelight Program this season will begin on April 29th, 2011.
Today we present to you videos/excerpts from the "stories" portion of the program with readings and interpretations from a selection of the Candlelight performers. The CD "Songs and Stories of a Civil War Hospital: Candlelight at Christ Church," as well as the accompanying book, A Sanctuary for the Wounded: The Civil War Hospital at Christ Lutheran Church, Gettysburg, PA are both available for purchase from the Adams County Historical Society.
http://www.candlelightatchrist.org/
Candlelight performer Hilda Koontz presents a piece on Civil War poetry and introduces us to "
A Sanctuary for the Wounded: The Civil War Hospital at Christ Lutheran Church, Gettysburg, PA
." Hilda Koontz is a career and organizational consultant, holding an MA in Counseling Psychology. A Living Historian for 20 years, she is a frequent presenter at state and regional Civil War conferences, is Past President of the Gettysburg Civil War Roundtable and a member of the Civilians of Gettysburg.
Candlelight performer Eileen Hoover presents the story of Martha Ehler. Eileen Hoover researched Martha Ehler for the book, "A Sanctuary for the Wounded" and is honored to read from her journal during Candlelight performances and on Wednesday evenings for Historic Church Walking Tours. Eileen is a local innkeeper at the Lightner Farmhouse B&B and a partner in J's at the Village restaurant.
Candlelight performer Pastor Stephen Herr presents the story of Austin Stearns. Born and raised in Lancaster, Pennsylvania, Steve has served as pastor of Christ Evangelical Lutheran Church in Gettysburg since 1999. A graduate of both Gettysburg College and the Lutheran Theological Seminary at Gettysburg, he lives in Gettysburg with his wife Jill and their two sons.
Candlelight performer Jared Herr presents a vignette about Christ Lutheran Church during the battle. Born in Latrobe, Pennsylvania, Jared moved to Gettysburg at six weeks old. He is in the fifth grade and enjoys studying history, writing and performing. He lives with his parents, Steve and Jill as well as his younger brother Josh. Jared hopes to one day serve as President of the United States or a marine biologist.
Candlelight performer Ron Rock presents a video on Civil War poetry as well as a reading of a poem by Walt Whitman. Born and raised in the Bronx, New York, Ron attended Gettysburg College in the early 60's. He received a law degree from Rutgers University in 1967 and was a trial attorney for Con Edison from '67 until his retirement in '98. He and his wife Kathy moved to Gettysburg 4 and 1/2 years ago. Ron volunteers for the NPS at the Visitor Center and is also a member of the Park Watch Patrol.
Tom Laser, overall coordinator for the Candlelight program, concludes the Candlelight program and offers information about the program's background.