Gettysburg Licensed Battlefield Guide John J. Fitzpatrick, Jr., Esq. is host for a series on the Irish Brigade at Gettysburg. John's interest in Gettysburg began in centennial year of 1963 when he arranged a trip to the Battlefield for the Villanova University Student History Club. That sparked a continuing interest in the American Civil War. Throughout his travels in the Service, work and some vacations he has been to Civil War sites coast to coast from Fort Point under the Golden Gate Bridge, San Francisco, California to the home, church and College of Joshua Lawrence Chamberlain in Brunswick, Maine. He is now entering upon his ninth year of Guiding at Gettysburg.
His professional career began in 1966 as a United States Marine Corps Officer, Tank Platoon Commander then Pilot. He served a combat tour of duty in Vietnam completing 140 missions in the A6 Intruder for which he was awarded 9 Air Medals and Vietnam Service Awards. Captain Fitzpatrick was Honorably Discharged from Active Duty in 1971 whereupon he entered law school. Upon graduation in 1974 he began a 32 year career as Corporate Counsel for Gulf Oil and Chevron Corporation retiring in 2006. He is a Member in good standing before the highest Courts in Pennsylvania, the District of Columbia and California.
Contemporaneously with his first legal job, he transferred to the Pennsylvania Air National Guard and later the U.S. Air Force Reserve. He served as an Active Reservist Pilot/Forward Air Controller/Squadron and Group Training Officer at the Willow Grove NAS, PA from 1974-1984. He was transferred to HQ USAF at the Pentagon in Legislative Liaison from 1985-1993 and finally as a JAG Officer reporting to the USAF TJAG and General Counsel from 1993-1997 based on his civilian expertise to assist the Air Force with its new Arbitration and Mediation Programs. Colonel Fitzpatrick received 3 Meritorious Service Medals, the Air Force Commendation Medal and other Awards before transferring to the Retired Reserve in 1997. He now divides his time amongst Guiding at Gettysburg, certain volunteer Veterans' activities and serving as an Arbitrator in commercial, construction and securities cases.
John Fitzpatrick writes; "I appreciate the earlier related postings of my fellow Guides Rich Bellamy [Colonel Cross in the Wheatfield], the Editor of this Gettysburg Daily, Bobby Housch specifically for his postings of November 8 and 15, 2010 of the Weikert Lane [one of the most likely Avenues of Approach used by the Irish Brigade when it deployed to the Wheatfield in the late afternoon of July 2, 1863] and Dr. Rich Goedkoop's posting of President Kennedy's 1963 visit to Gettysburg. I also want to thank Licensed Battlefield Guides Rich Kohr for his posting on the Gettysburg Electric Railway and Ralph Siegel for sharing his expertise on the artillery fight at the Peach Orchard."
"I also appreciate permission to use:
• New York's Bravest, Painting by Don Troiani, www.historicalimagebank.com;
• Remember Ireland and Fontenoy, Painting by Rick Reeves, permission from Rick Reeves, rickreevesstudio.com;
• Pride of Erin, Painting by Dale Gallon, permission from Ms. Anne Gallon of Gallon Historical Art, Gettysburg, PA, www.Gallon.com;
• The Prince of Wales Flag courtesy of Erik Chipchase at mercenarygraphics.com. His e-mail address is [email protected] graphics.com.."
In addition to tours at the Gettysburg National Military Park, John also presents President Lincoln and the immortal Gettysburg Address, specifically in the context not only of the battle, but the enormous personal, political and policy pressures affecting the President when he prepared and how he presented it. He has spoken to Civil War Roundtables, Historical Societies, Rotaries and other church/civic/private clubs in PA, MD, CA and is scheduled to present in IL during 2013.
To contact John, please click here to reveal his email address.
In today's Irish Brigade Post, Gettysburg Licensed Battlefield Guide Emeritus John Fitzpatrick explains that the Fighting 69th is still a unit in the New York Army National Guard, and some of their post-Civil War accomplishments.
To see the previous Irish Brigade posts, click here.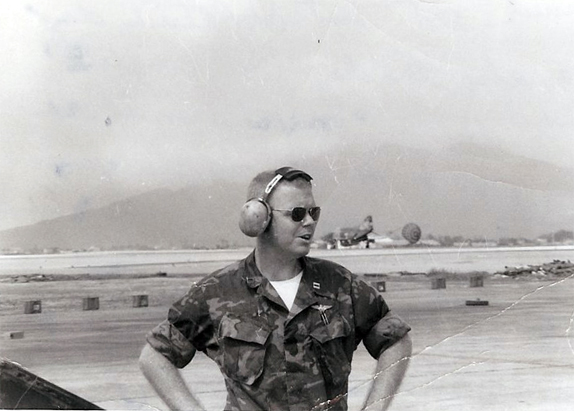 Captain Fitzpatrick on the US Marine flight line, DaNang, Vietnam, March 1970, a US Air Force F-4 Phantom Fighter having just landed in the background.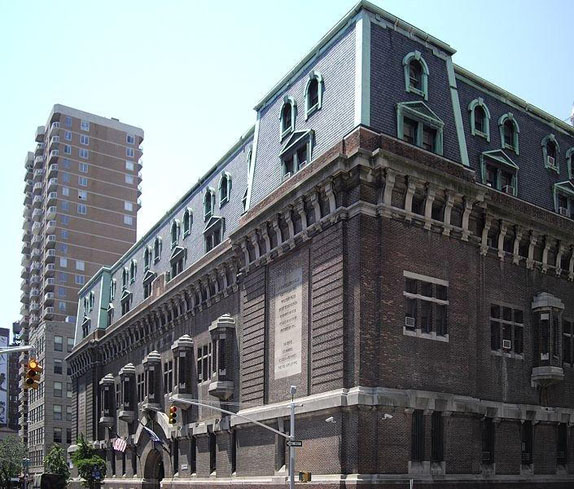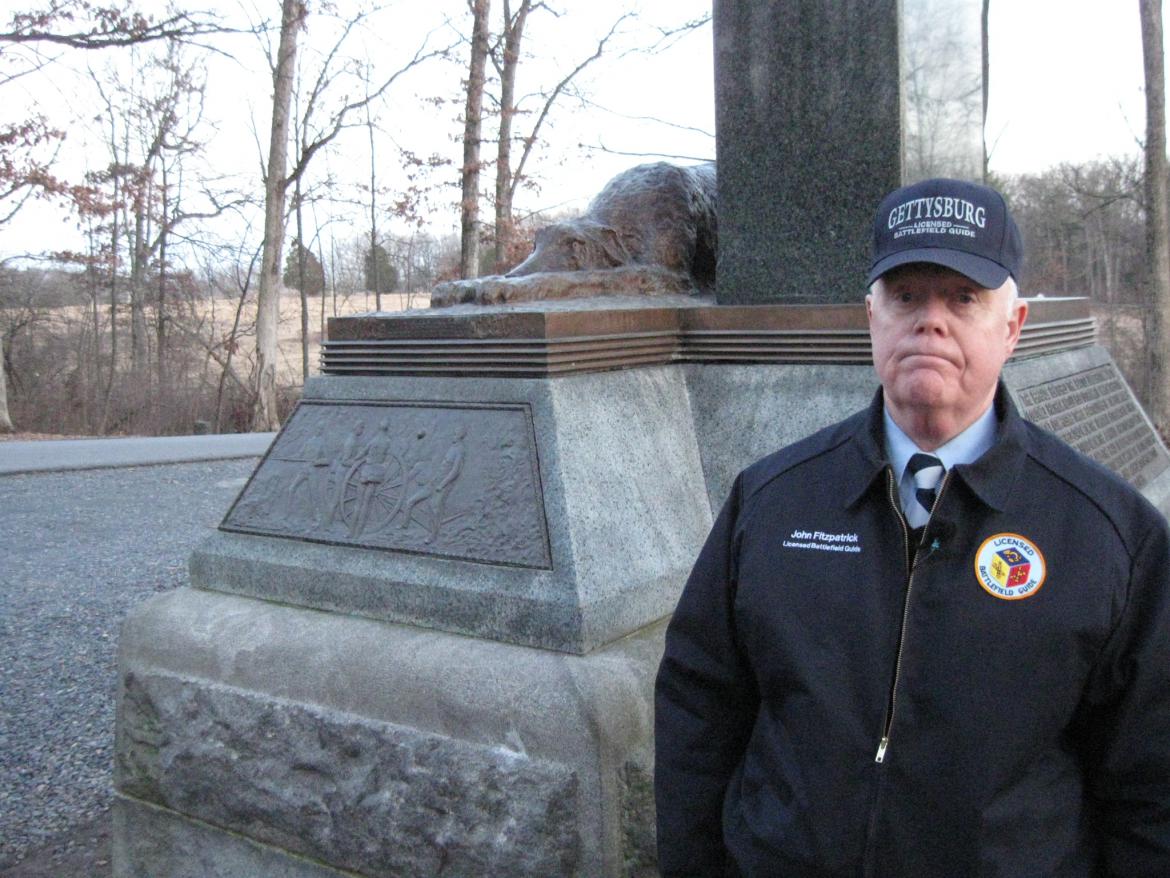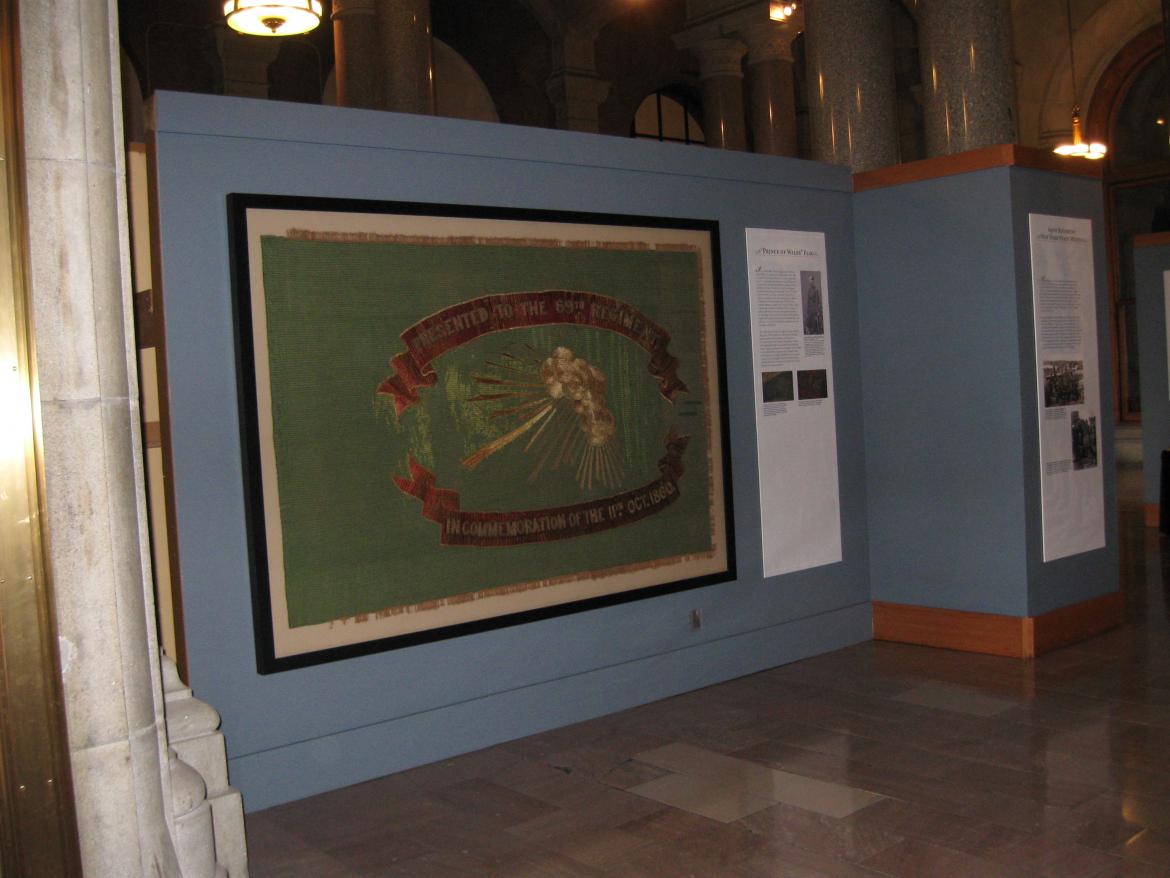 LBG John Fitzpatrick in NYC on February 25, 2012 as a guest of the Perkasie, PA Volunteer Fire Department where his brother Jim is a Fire Police volunteer. John is standing in a street adjacent to the WTC site where 5 new buildings are planned on the original 16 acres. In the background being constructed is the new "Freedom Tower", now to be called the new One World Trade Center. Within those 16 acres, 8 acres are the "9/11 Memorial". The fence on the left of the image encloses the graveyard of Saint Paul's Chapel, the oldest church in NYC, originally built by the British. It survived the fire of 1776, welcomed the first President of the United States, George Washington, to worship immediately after he took the first Constitutionally required Oath of Office and where he regularly worshiped while NYC served as the first Capitol of the new United States before moving to Philadelphia, PA – and it survived 9/11/01 virtually unscathed – not a single window pane or anything else was damaged except for one tree in the graveyard. Some 2000 responders, rescuers and searchers rested, refreshed and received meals in the Chapel during the immediate days and weeks following that unprovoked attack on our people, our soil and our country.
Part of the 9/11 Memorial are two Memorial Pools, waterfalls and reflecting pools located within the footprints of the North and South towers of the original World Trade Center. The names of all the victims of the 9/11 attack are inscribed in bronze around those pools. Panel S-14 of the South Memorial Pool includes some of the First Responder Organizations. Ladder 9 is pictured here.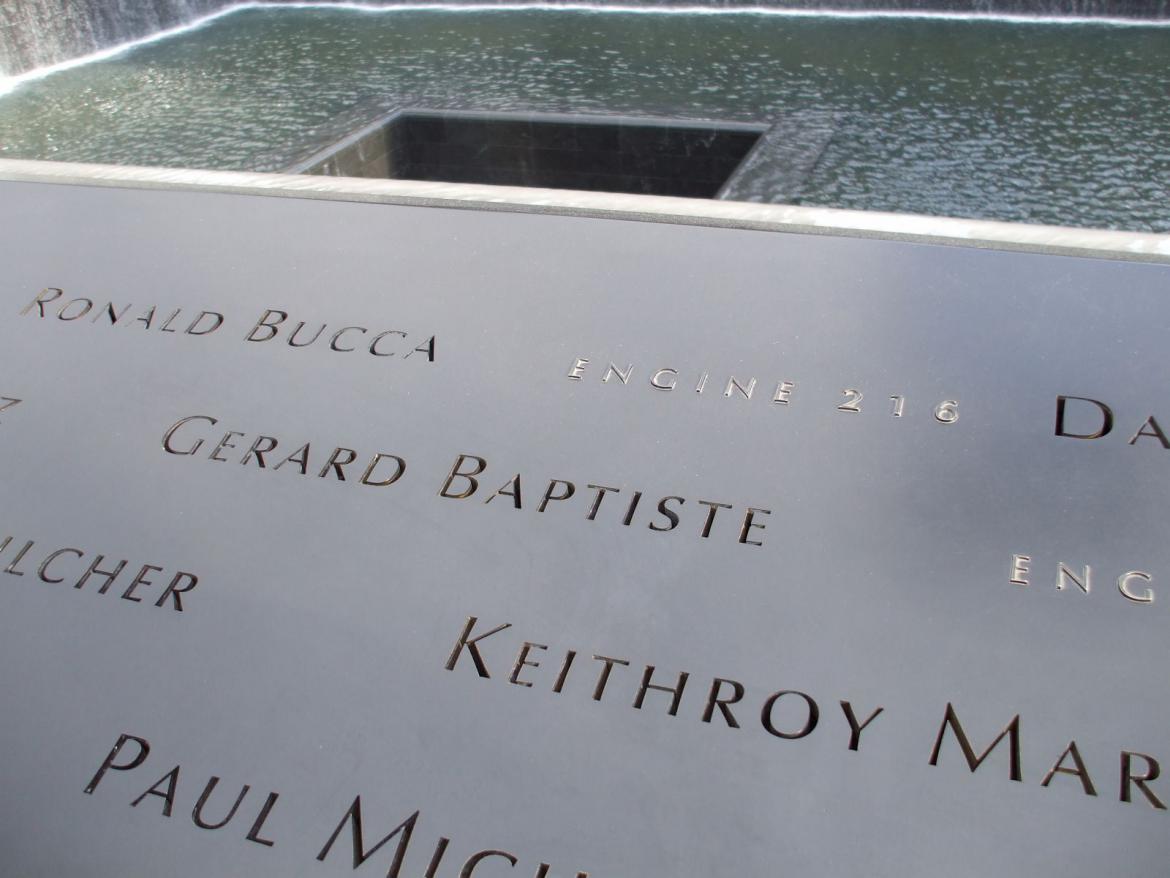 Photo of Gerard Baptiste in the fullness of his life, [courtesy of the 9/11 Memorial Foundation—permission requested] an immigrant to the United States of America from Santo Domingo at age 5. His heritage was Hispanic on his maternal side and French on his paternal side. He started out his adult career as a Firefighter, FDNY in the Bronx, then Brooklyn and finally, Ladder 9, Manhattan. He was studying to become an Officer in the FDNY. At some point he also voluntarily joined the "Fighting 69th" New York Army National Guard at the Armory. He met all induction requirements, completed Boot Camp, then applied and successfully competed Officer Candidate School and was promoted to Second Lieutenant. While working his full time job with the FDNY, he fully participated as a "weekend warrior" and incurred increased responsibilities, being promoted to First Lieutenant. He was last seen alive in the lobby of the North Tower, WTC on the morning of 9/11/01. He died, literally, serving his Community, his State and his adopted Country.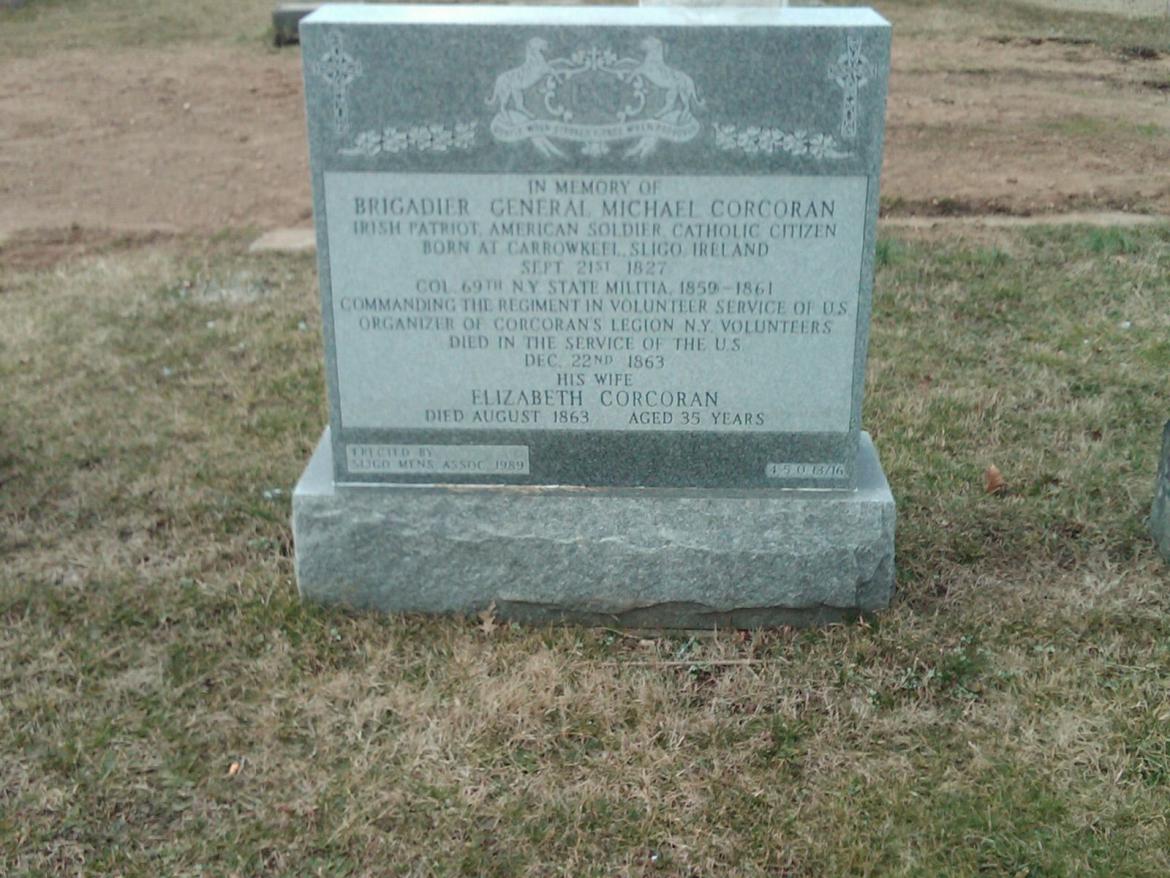 In the next few images, we'll show you some Irish Brigade gravestones in New York City's Calvary Cemetery. Michael Corcoran – 69th NYSM Commander who refused to march in honor the British Prince of Wales, led the Regiment's march to defend the Capitol when President Lincoln called for volunteers, built and defended Fort Corcoran just south of today's Key Bridge just two miles from the White House, led the 69th NYSM at First Bull Run, captured, refused parole until exchanged more than a year later, and died, at age 36, in a horse accident while defending the Capitol in 1863; On the top center of his gravestone is part of the crest of the 69th New York. The lower riband beneath the feet of the Irish Wolfhounds reads: "Gentle when stroked, Fierce when provoked." This view is courtesy of reader James Nolan and was taken at approximately 2 PM on Sunday, March 4, 2012.
Patrick Kelly – Captain of the 69th NYSM, LTC- Commander of the 88th NYVI, Colonel – Commander of the Irish Brigade at Gettysburg and until his death at age 42 while attacking the Confederate defenses at Petersburg, June 16, 1864. This view is courtesy of reader James Nolan and was taken at approximately 2 PM on Sunday, March 4, 2012.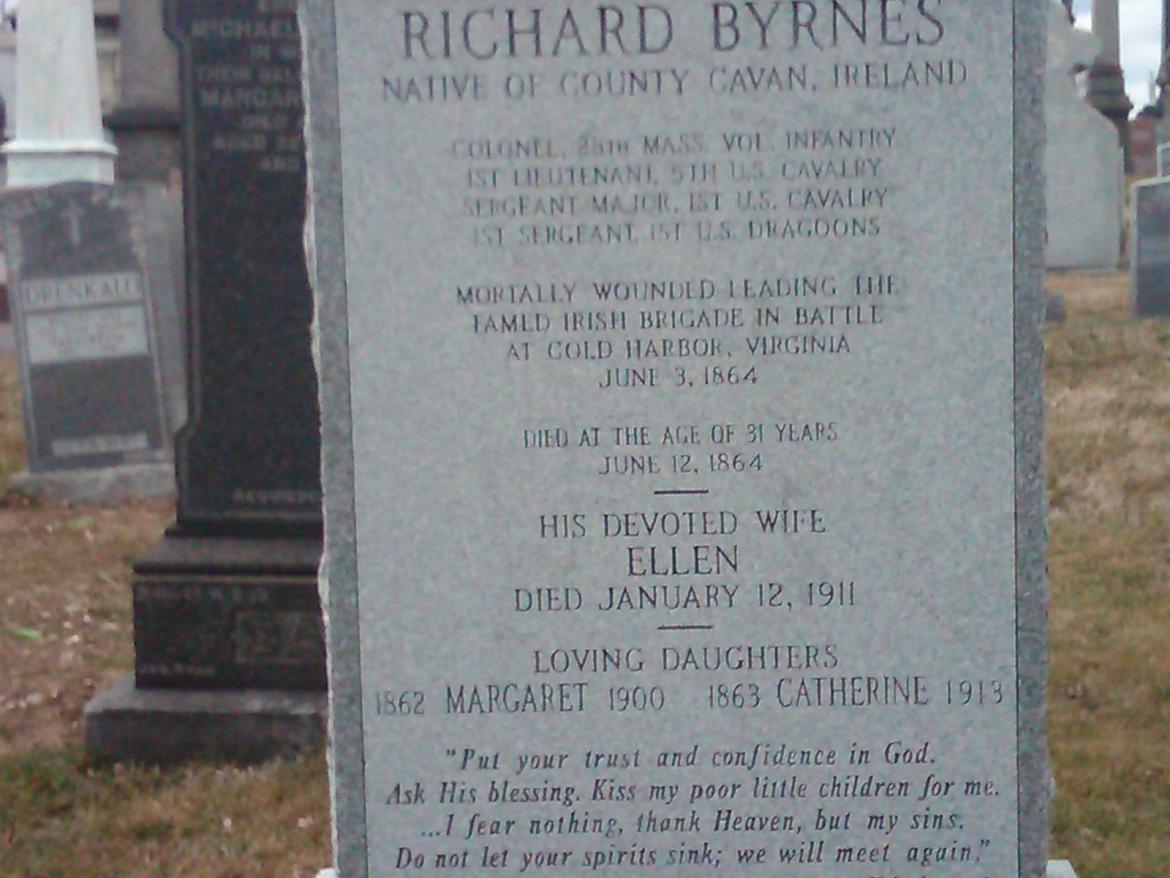 Richard Byrnes – Sergeant and Sergeant Major of US Dragoons/Cavalry, Colonel – Commander of the 28th Massachusetts at Gettysburg, mortally wounded at Cold Harbor, June 3, 1864 at age 31, leaving behind a wife and two young daughters. This view is courtesy of reader James Nolan and was taken at approximately 2 PM on Sunday, March 4, 2012.
James McKay Rorty – Private in the 69th NYSM, captured at Bull Run, escapes, Lieutenant of Artillery, wounded on the General Staff of the Second Corps, placed back into command of the 1st NY Light, Battery B/NY 14th Independent on July 2, 1863 and falls mortally wounded, at age 26, during the cannonade/Longstreet's Assault one day later while commanding, then actually working one of the guns due to the Battery's heavy losses. Part of his gravestone reads: "A Worthy Officer, A Gallant Soldier, An Estimable Man." This view is courtesy of reader James Nolan and was taken at approximately 2 PM on Sunday, March 4, 2012.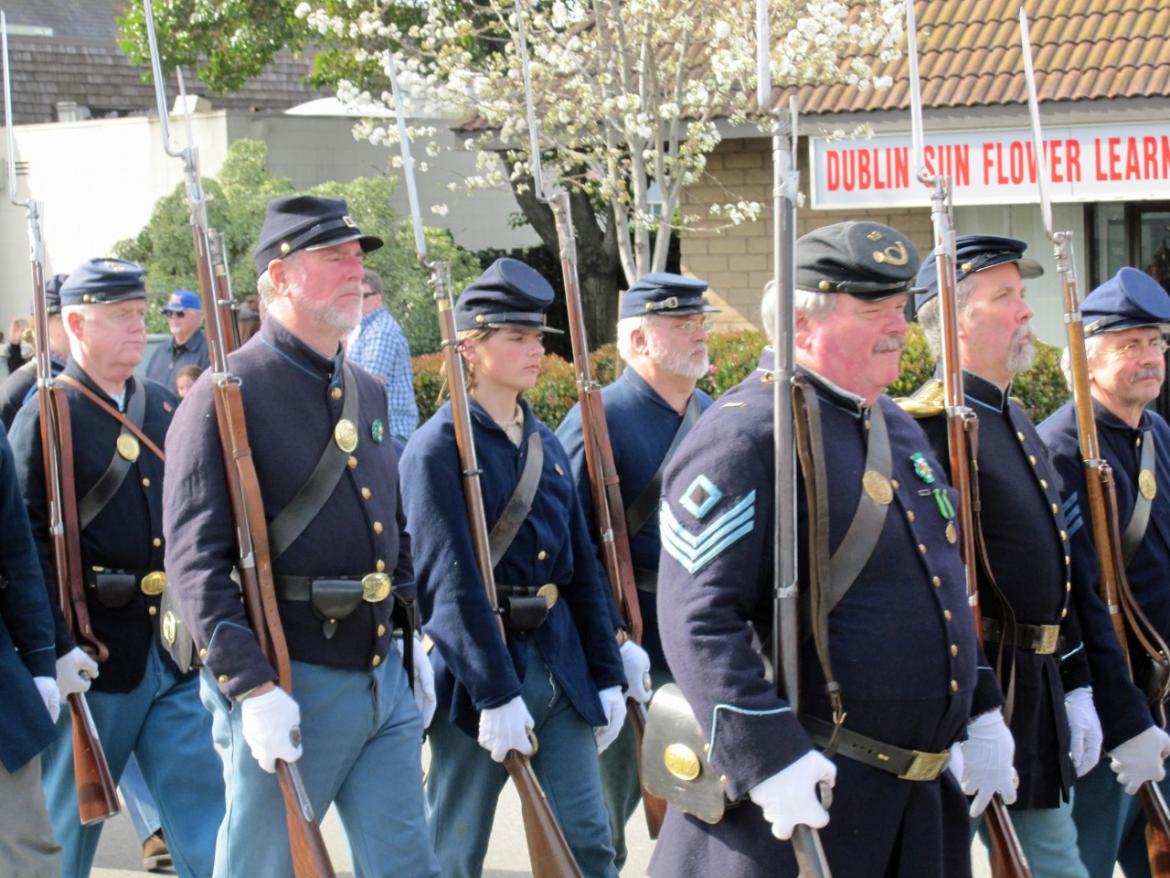 "Reenactors of Company A, 69th New York Volunteer Infantry [the linchpin Regiment in the famous "Irish Brigade" in the Union Army of the Potomac during the American Civil War] in the National Civil War Association in Northern California are depicted in the Saint Patrick's Day Parade in Dublin, California in the East Bay near San Francisco. Dublin, California is an official "Sister City" of Dublin Ireland.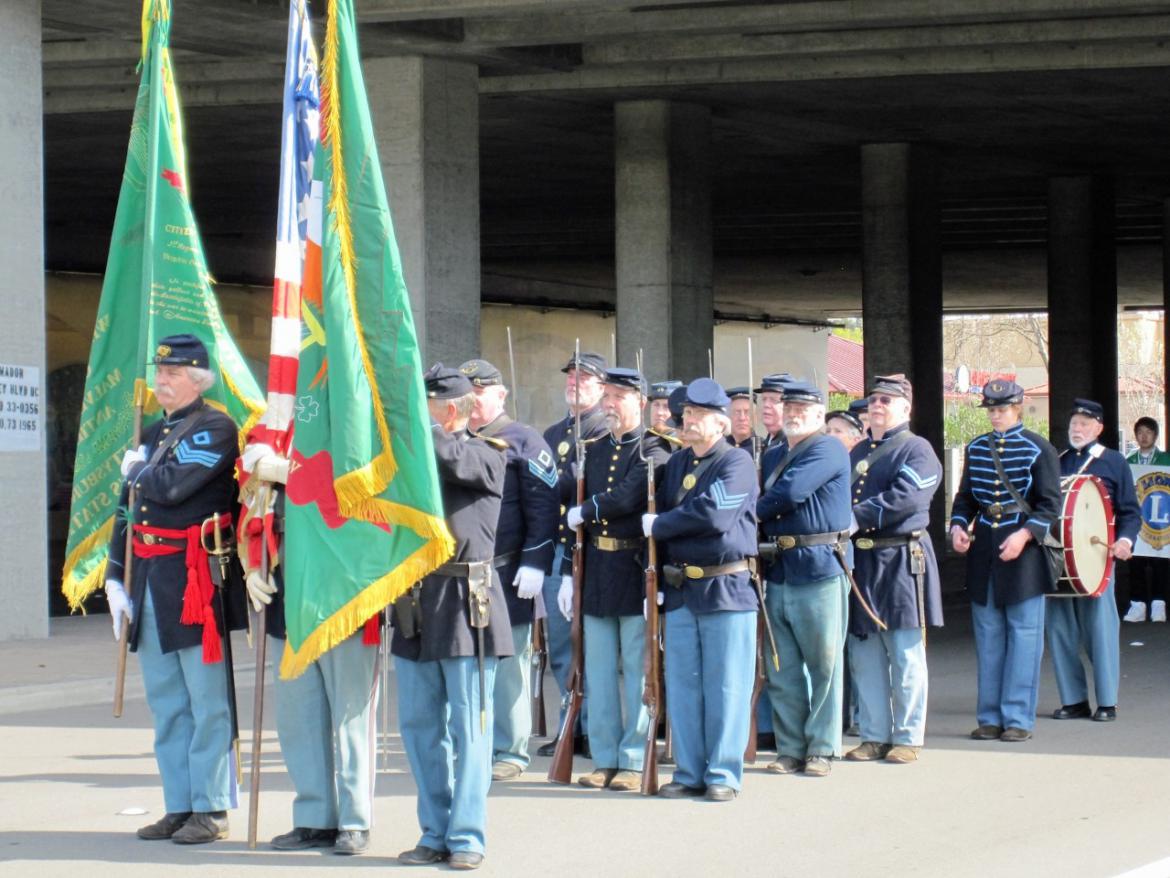 "Each year, these Reenactors are the lead marching unit in that Parade, and both carry the National Colors [and a replica green Regimental flag] as well as serve as the Color Guard for the entire Parade. Licensed Battlefield Guide John Fitzpatrick has marched in this parade every March since 1998 shortly before he comes East [since 2004] for the busy guiding season at the Gettysburg National Military Park."
To see other posts by Gettysburg Licensed Battlefield Guides, click here.