Here is an image where we combined the Alexander Gardner photograph with an image that we took of an area of the battlefield where we think Gardner originally took the photo. The Brigadier General Andrew Humphreys statue is in the right background. Thanks to Gettysburg Licensed Battlefield Guide Christina Moon, for suggesting that we combine this photograph. Don't think we have the correct location? That's fine, we have a proposal for you. The modern photograph was taken facing north at approximately 10:15 AM on Thursday, December 30, 2010.
Last Thursday we presented details from Alexander Gardner's July, 1863 Gettysburg photograph, "Unfit for Service." In our second post we show you where we believe the photograph was taken.
In today's Army on the March at Gettysburg post, we make a proposal for those who believe the photograph was taken in another location. If someone has a better spot, that's great, we just want to make sure the history is right, and we don't care who gets the credit for the correct spot. All we ask is that whoever is looking for this location, please keep in mind at least seven criteria:
1. The background in the Gardner photograph is approximately 60-70 yards wide. Based on our calculations, if the equipment and horses were lined up touching each other they would be approximately 50 yards wide. We know there is clearly some spacing between the vehicles, but probably not more than 20 yards or so.
2. Keep in mind your proportions
3. This was probably a main road used by the Union Army following the Battle of Gettysburg.
4. You are looking up with a crest of a ridge in front of you.
5. There are large trees and possibly an orchard in the right background.
6. There is a slight dip in the road, and look at far right wagon. The back of the wagon is a little lower than the front, so the wagon is probably going up a little rise or hill.
7. There are no visible remains of an orchard on this side of the road.
Other "subjective" points we would like to point out that you might want to consider in your location:
8. Evidence suggests that the site of the limber and the mule was between the lines of the Union army and the Confederate army at a place where it wasn't easy for one side or the other to easily salvage the materials in the limber.
9. Alexander Gardner probably began taking most of his Gettysburg photographs on July 6, 1863.
If your proposal matches at least the first seven criteria then we will give you an opportunity to shoot three short videos (no more than three minutes each) stating your case.
If your proposal doesn't match the first seven criteria, then please keep looking until you find a better spot.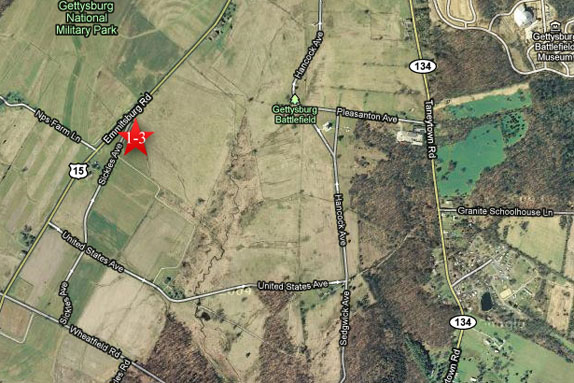 This map shows the locations for the videos we shot for this post. Videos #1-#3 were taken behind the position of Turnbull's Battery, and southeast of the junction of Sickles Avenue and the Emmitsburg Road. This map was created facing north at approximately 6:15 PM on Thursday, December 30, 2010.
In Video #1, Gettysburg Licensed Battlefield Guide Bobby Housch presents some criteria to think about if you want to look for another location for this photograph.
This view was taken facing mostly north at approximately 12:30 PM on Sunday, January 2, 2011.
In video #2, Licensed Battlefield Guide Bobby Housch presents five more criteria for the photograph in the background including the interesting position of the far right wagon in relation to the rest of the equipment. This video was taken facing north and northwest at approximately 12:30 PM on Sunday, January 2, 2011.
In video #3, Bobby Housch presents some other items those searching for another site might want to keep in mind. In William Frassanito's book, Early Photography at Gettysburg from Thomas Publications, he quotes a letter from Charles Keener of the U.S. Christian Commission of his activities on July 5, 1863, including when he left Emmitsburg, Maryland that day (page 21): "… at 3:00 PM I started, in company with the army photographer, and again took the direction of Gettysburg, reaching there at 6 P.M."
This view was taken facing mostly north at approximately 12:30 PM on Sunday, January 2, 2011.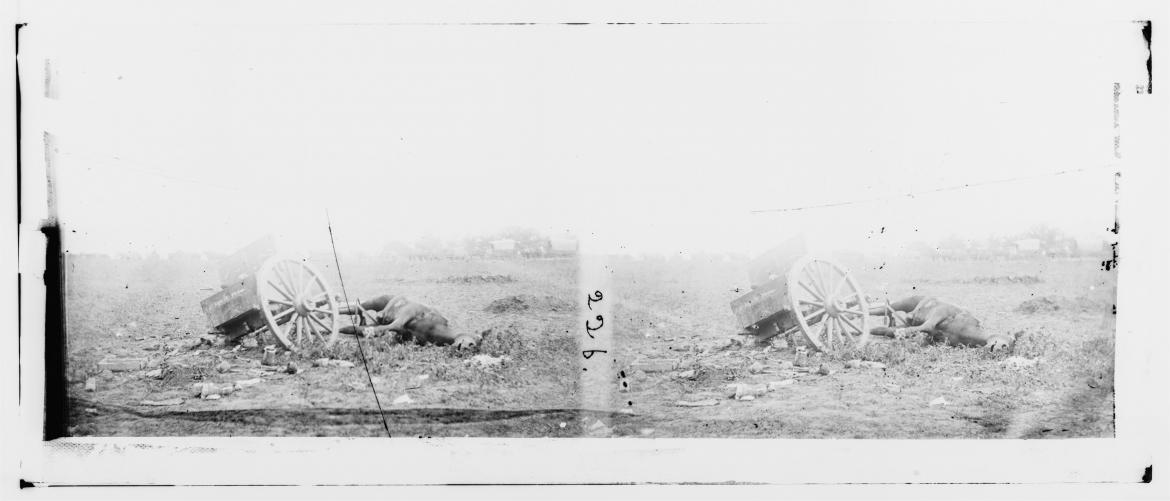 Photographer Alexander Gardner titled this stereo view "Unfit for Service – on the battlefield of Gettysburg. July 1863."

Here is the background of the photograph after we darkened it up.