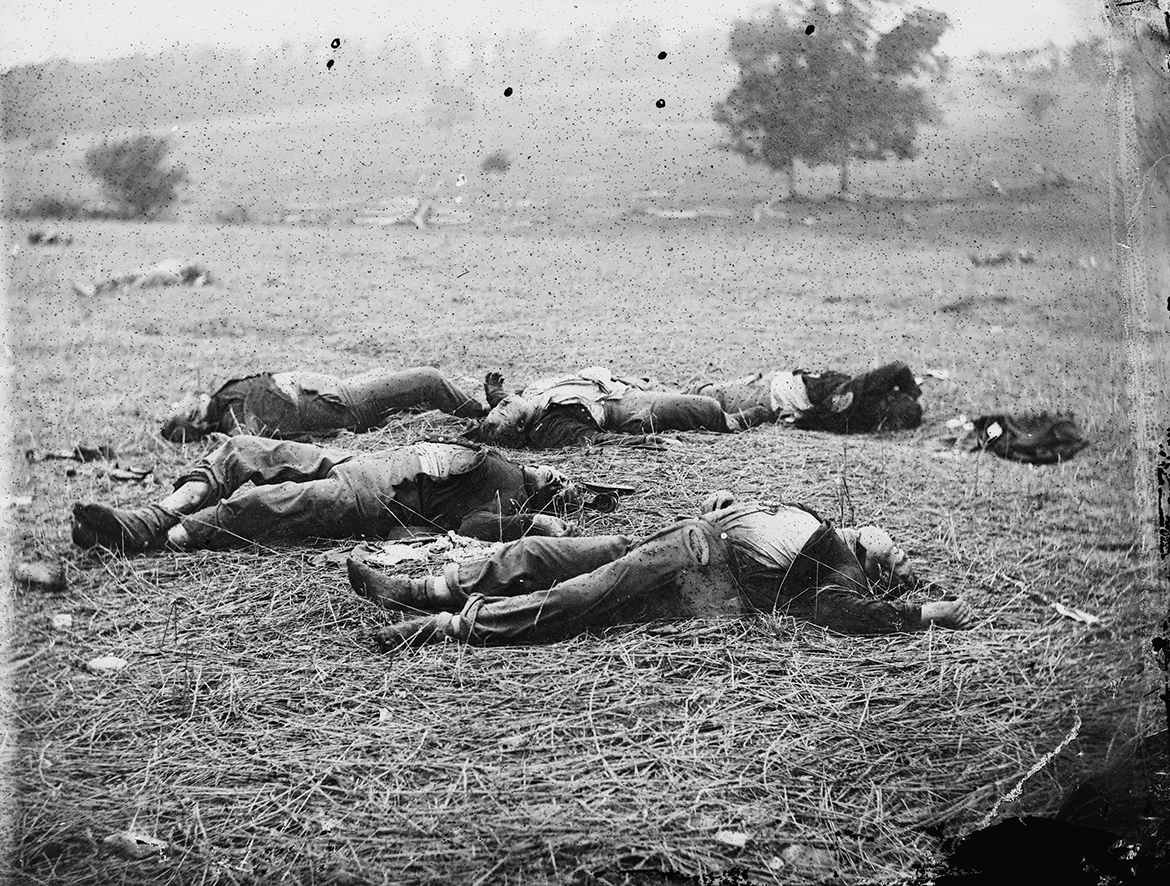 A glass plate titled "View in Field on Right Wing Where General Reynolds Fell At The Battle of Gettysburg."
This image was taken by Timothy H. O'Sullivan for Alexander Gardner circa July 5-6, 1863 [LOC].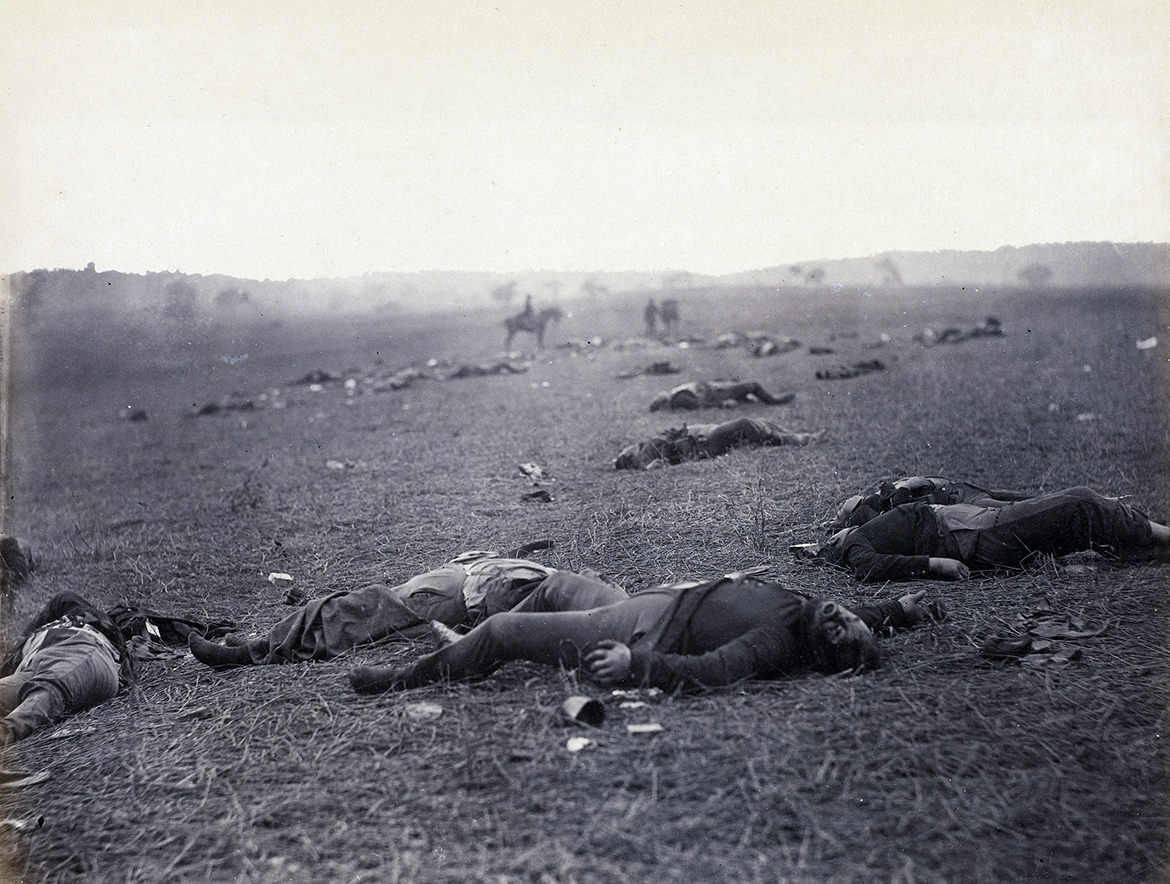 "A Harvest of Death."
This image was taken by Timothy H. O'Sullivan for Alexander Gardner circa July 5-6, 1863 [LOC].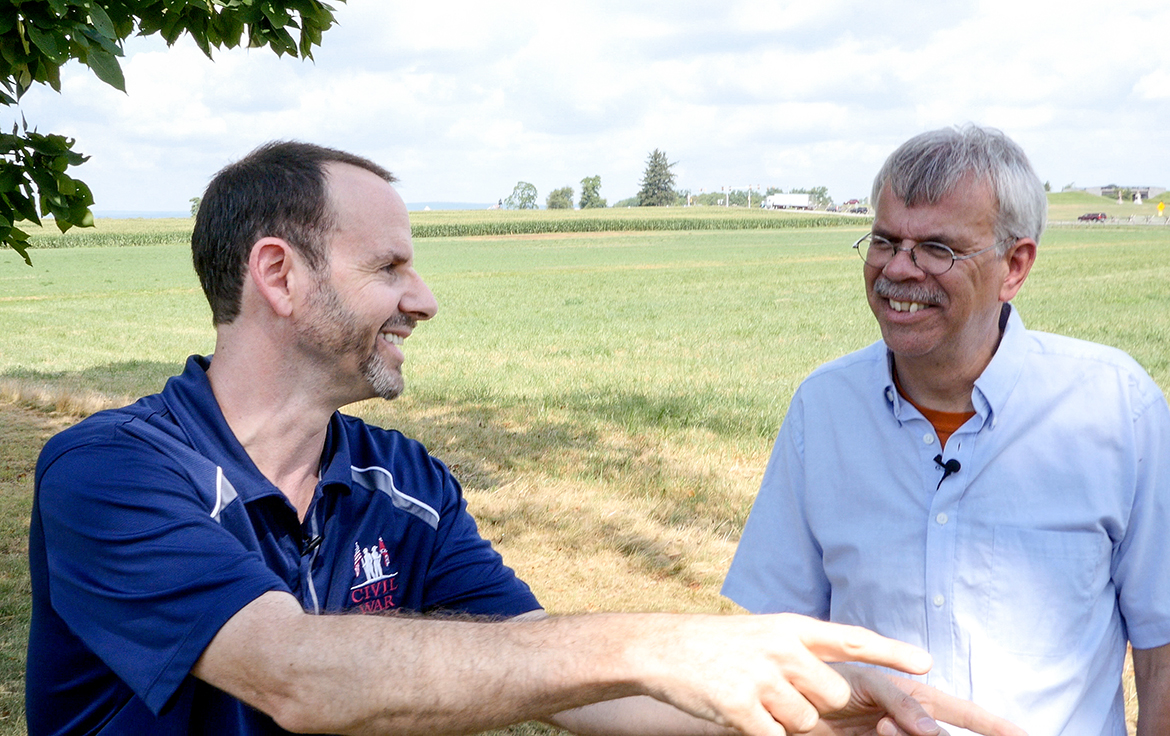 Gettysburg Licensed Battlefield Guides
Garry Adelman
(left) and
Tim Smith
(right) are our hosts for the Harvest of Death Series. This photograph was taken south of the Chambersburg Pike on the first day's battlefield.
The Chambersburg Pike and the bridge over the Railroad Cut on Reynolds Avenue can be seen in the right background. This view was taken facing northwest in August of 2016.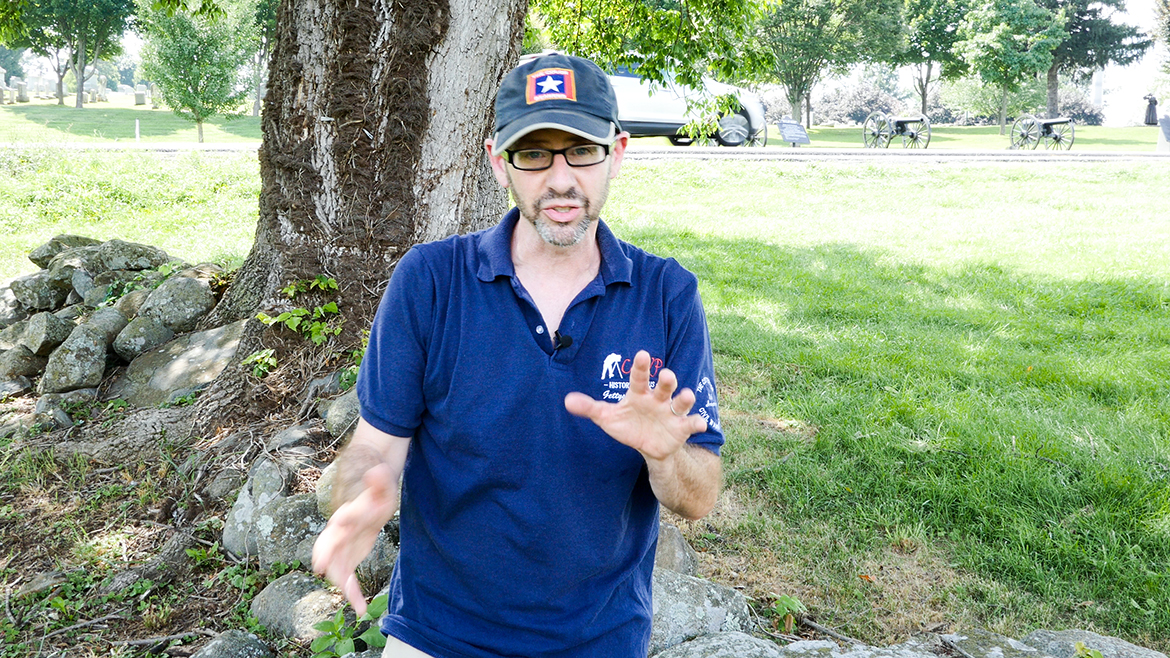 Garry Adelman is the Director of History and Education for the Civil War Trust. He earned his B.A. in business from Michigan State University and his M.A. in history at Shippensburg University of Pennsylvania. He is the award-winning author, co-author or editor of Gettysburg in 3-D (2013) Antietam in 3-D (2012), Manassas Battlefields Then & Now (2011), The Civil War 150 (2011) Antietam: Then & Now (2005), The Myth of Little Round Top (2003), The Early Gettysburg Battlefield (2001), Little Round Top: A Detailed Tour Guide (2000), and Devil's Den: A History and Guide (1997) as well as nine Civil War image booklets. He has published articles in Civil War Times, Civil War Monitor, Gettysburg Magazine, Civil War News, Hallowed Ground and others. He has conceived and drafted the text for wayside exhibits at eight battlefields, has given thousands of battlefield tours at some 50 sites and has lectured at hundreds of locations across the country including the National Archives and the Smithsonian. He has appeared as a speaker on the BBC, C-Span, Pennsylvania Cable Network, American Heroes Channel, and on HISTORY where he was a chief consultant and talking head on the Emmy Award-winning show Gettysburg (2011) and Blood and Glory: The Civil War in Color (2015). He is a founder and longtime vice president of the Center for Civil War Photography and is a Licensed Battlefield Guide at Gettysburg. If you'd like to see more from Garry,
be sure to visit his Facebook page.
This view was taken in August of 2016 on East Cemetery Hill.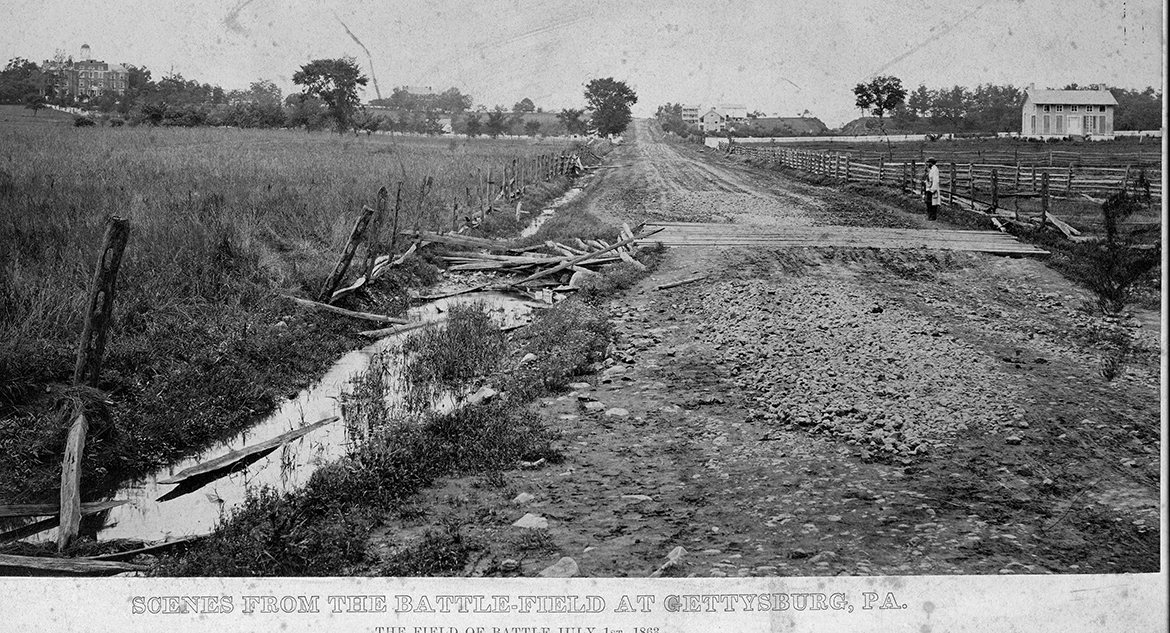 The Frederick Gutekunst view looking northwest on the Chambersburg Pike toward Seminary Ridge.
According to William A. Frassanito's Early Photography at Gettysburg, the man shown in the right of the photograph is Gutekunst's assistant, J. Marshall. This view was taken circa July 12, 1863 by Frederick Gutekunst.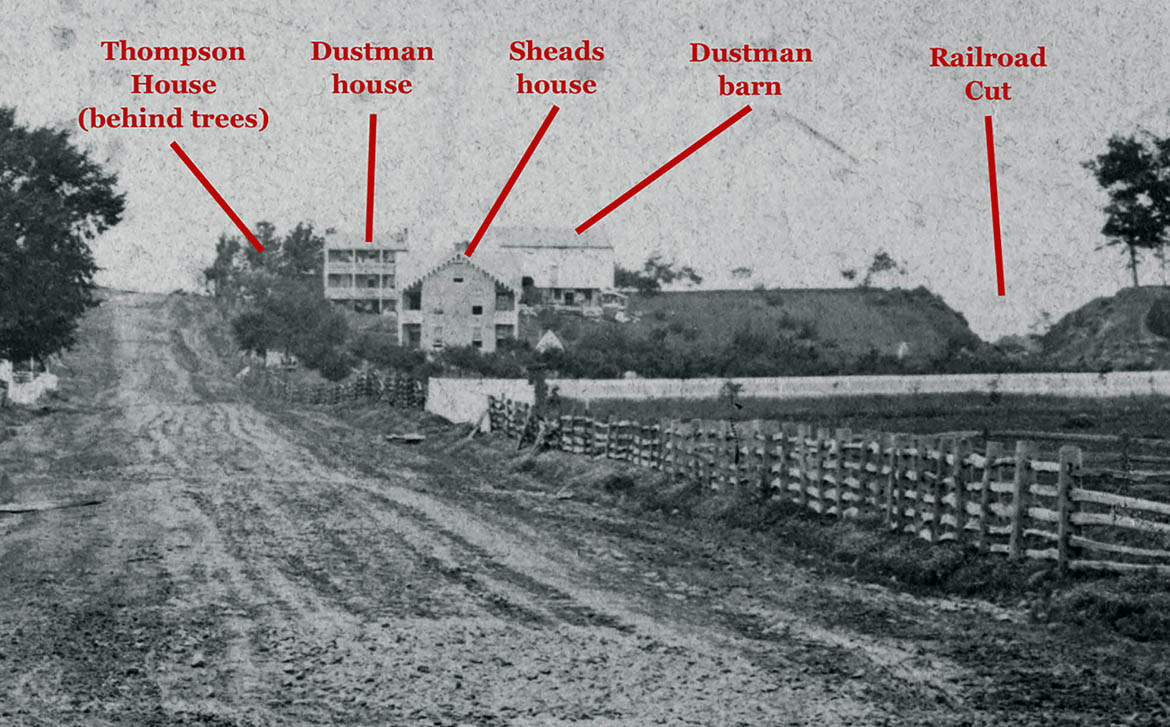 A detail of the previous view labeling the structures that are present in the right background of the photograph along Seminary Ridge.
This detail of the previous image was provided by Garry Adelman.
In Video #33 Garry demonstrates why trees overhanging a structure should remain in the same position, even if photographed from different angles.
This video was taken in August of 2016.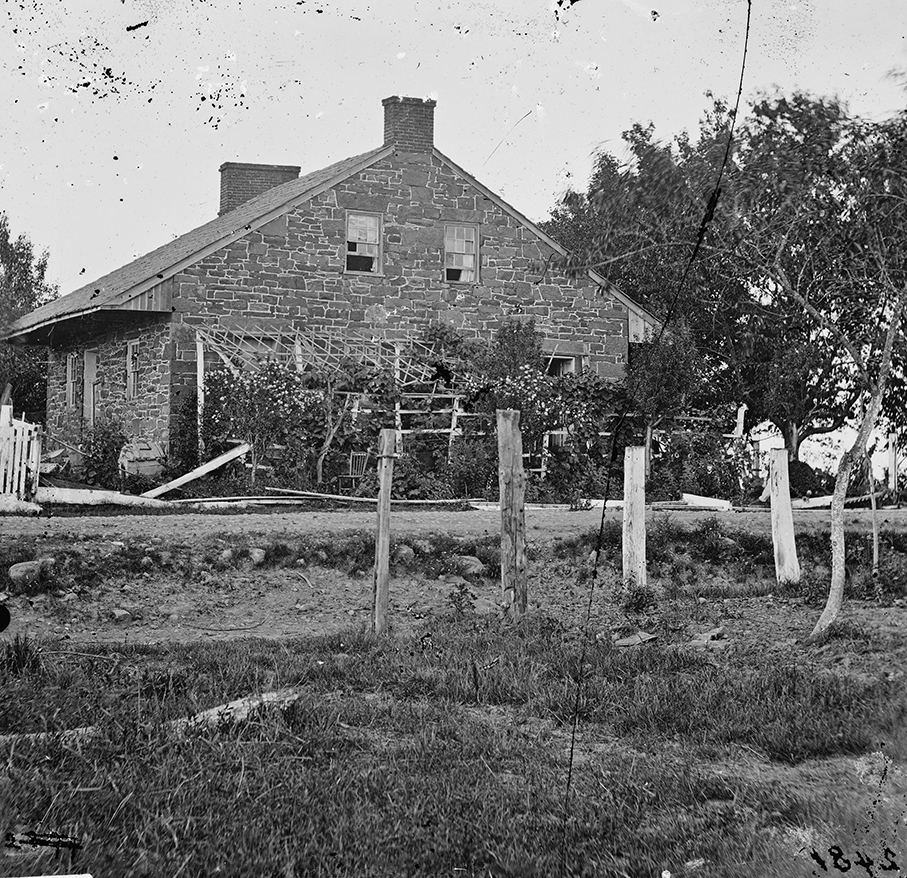 The widow Mary Thompson House, also referred to as
Lee's Headquarters.
This one and a half story stone house was occupied by the widow Mary Thompson during July of 1863. Of approximately 30 scenes photographed by Civil War photographer Mathew Brady and Co. a week and a half after the battle, four were taken in front of this dwelling.
This view was taken facing northwest in July, 1863.

The hints, rules, and principles for those attempting to locate the sites of Civil War photographs. Please remember that you can click on this image (and all of our images) for a larger version.
10 more essentials for the Harvest of Death series
1. Use all five photos to get the best detail and breadth possible.
2. The views in both directions must match proposed sites. The cameraman took views in two different directions at an approximately 135 degree angle. Not 110, not 160—certainly not 180. This is absolute.
3. Anyone can find the Harvest of Death site. It need not be a known historian.
4. Avoid the "Moving Target Syndrome." This means two things. First—if you want others to evaluate your proposed site, you can't keep moving that site around. It's hard to hit a moving target and is even harder for people to follow. Second, if, for instance, you have found your "good" view that you believe matches one of the Harvest of Death photographs and you can't line up your "other" view at 135 degrees, you can't move your spot to make the "other" view work without changing the view of your "good" photo.
5. It only takes one piece of period photographic evidence to prove any Harvest of Death theory wrong. Even if 100 other pieces of evidence support it.
6. The sites from which the Harvest of Death (and every other Civil War photograph) photos were recorded are fixed and absolute. No site is more correct than another—each proposed site is either perfectly right or perfectly wrong. Our not knowing where the photos were taken does not make any other site more correct.
7. The general terrain found in the Harvest of Death series is fairly common.
8. People are very easily convinced of proposed Harvest of Death sites. But this is not a popularity contest. See #4, above.
9. Do not publicize your theory as a success until you and other historians have completed all the steps on these lists and dealt with the contrary evidence.
10. Check 1-9 again.
This image was created facing north on Wednesday, March 14, 2012.